PALESTRA
Responda com sinceridade às seguintes questões:
Sua empresa adotou os mais modernos frameworks de método ágeis para desenvolvimento de software, mas a agilidade esperada ainda não chegou ao negócio?
Você mudou a forma de escrever requisitos e agora tudo são histórias de usuários e épicos em backlogs ou em planos de releases… mas você ainda acha difícil saber o que tem valor de negócio?
A TI da sua empresa se diz ágil, mas a cada novo pedido de mudança das áreas de negócio você começa a análise do zero, mapeando o AS-IS ou fazendo engenharia reversa de código fonte para saber quais são as regras de negócio vigentes?
Se você respondeu sim a alguma das questões anteriores, você precisa saber que a chave para a real agilidade de negócio não está nos requisitos de software, mas na forma como você articula, entende e gerencia conhecimento de negócio.
Com base em anos de experiência auxiliando diversas empresas a organizarem suas metodologias de gerenciamento de requisitos, Fabrício Laguna mostra como organizar e manter as bases de conhecimento necessárias para aumentar a agilidade de negócio.
OBJETIVOS
Nesta palestra você vai aprender a:
Gerir requisitos em bases de conhecimento de negócios
Conhecer as principais técnicas para mapear conhecimento de negócios
Aumentar a agilidade configurando processos e regras
CONTEÚDO PROGRAMÁTICO
Os objetivos com o Gerenciamento de Requisitos
A Matriz REQM
Projetos x Produto
Necessidade x Solução
As diferentes bases de conhecimento

Projeto x Sistema x Negócio

Rastreabilidade de requisitos
Análise de Impacto

Gestão de Configuração de Itens de Conhecimento
Técnicas de modelagem de negócios

Modelagem de Processos
Modelagem de Decisão

Negócios configuráveis e ágeis
DURAÇÃO
1 hora de palestra expositiva
Comentários do público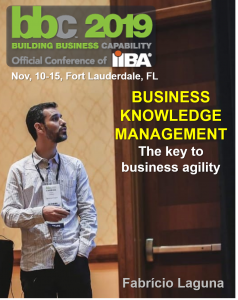 Very enlightening presenting in a highly creative way. By far my favorite presentation.
Amazing energy and great presentation!
Great presentation, very engaging presenter!
Very interesting and interactive presentation of business agility.
This session was great and used a unique method to display the difference between product and project
A great speaker to energize the audience on the last day. Great presentation – engaging and illustrative.
"ABSOLUTELY FANTASTIC!!! So so SO glad that I went to this one. Fabricio was engaging and entertaining and providing so many easy to digest ideas/suggestions/tips. Made the session so fun! Would love to attend more sessions from Fabricio!"
Although I didn't attend the whole session (I had some housekeeping I had to do). I was sitting outside the session room and I could tell Fabricio had the audience energized and engaged. He not only provided great information but entertained the attendees. He also made sure people could understand him.
Speaker was VERY engaging and had a lot of good points which were made clearer by the exercise.
Great Session! One of the best of the whole conference. Entertaining, engaging and included real take-aways!
The most fun filled session of all.
Kept the audience engaged which helped to understand what he was presenting. His way of presenting the material and outstanding.
Loved his approach and engagement with the audience.
This guy is amazing. Great content, astounding audience participation and engagement. Best speaker of the conference.
Lively presentation. Would have liked more info and examples of links between the project results and requirements. Some of the conclusions were inferred, rather than explained.
very informative and engaging
Very engaging speaker. Did a fantastic job!
Very energetic and passionate. Was very pleased I attended this session
This was by far the best session I went in the three days! Fabricio did an excellent job of relaying the information in a fun and easy to understand way.
This session was one of the highlights of the conference. It was clear and educational, and the presenter was top-notch.
This was the best presentation that I attended. Very engaging, active participation, and yet filled with informative lecture details.
Very exciting session!
LOVED this session! I appreciated Fabricio's approach to his delivery.
The information was pretty basic, but the presenter was creative and engaging and had the entire audience participating
Fabricio was very practical and engaging.
The instructor was excellent. He delivered the content in a very interesting, dynamic and fun way. Probably the best session.
Great presentation. As usual Laguna presented the concepts with full of music and dances. The attendees were throughly entertained with good information.
This was my favorite. He made things interesting, relatable and fun. For it to be done on a Friday when everyone is ready to head home. I really enjoyed it and learned a lot.
The best speaker, awesome content and very well presented.
This session had great content and Fabricio was the most entertaining speaker I heard all week!
He truly could be a keynote speaker!!! Excellent
What a wonderful presenter! He acknowledged his accent and was great at explaining different concepts. I loved the collaborative game we did at the end.
This was by far my favorite session of the entire conference. Fabricio was very knowledgeable, entertaining, and engaging!
Very engaging and entertaining! Great presentation!!
the speaker was excellent however I thought the topic could use a little bit more actionable take aways. it left me a little confused on what I was actually going to try and change within my organization. he did a good job articulating the problem.
Fabricio mixed fun with business and captured the audience for the entire session. His use of metaphor was engaging and easily memorable.
Excellent speaker — created a good energy in the room and had a good presentation
Awesome session. Went a few minutes over, but I don't think anyone minded
Very creative, clear and informative session. The topic is very complex but Fabricio managed to convey his ideas making it sound easy.
Actionable information and delivered in a fun way. One of THE best sessions all week
The best presentation at the conference!
Best class yet!!!
Great Speaker. Very Engaging.
Very engaging. Tequilla
One of the best sessions of the week. The presentation was visually intriguing. The content was extremely relevant. He was super engaging. THIS is a session I will remember. I would love to see a tutorial/longer session from him!